Downliner offers many methods
of promoting your site.
You can use Downliner as a free member or you can upgrade.
Upgrade costs $9.99 or $19.95 per month.
While upgrading you start a subscription.
But you can cancel your subscription any moment.
You don't lose your account – you become a free member again.
Until you change your mind again.
To promote your site you will need points.
As a free member you need to earn points by promoting
your special Cooperative Link.
Click HERE to see mine.
>> The website you can see inside the frame has been added to Downliner rotator by another member.
>> Look at the bottom of the above page.
To the right you can see a banner, to the left – a text ad.
Or rather fast changing text ads.
Although these ads change so quickly – people click on them!
>> My website is rotated as long as I have points.
>> When I set up a banner advertising – I always choose 30 days – 2500 points

>> When I set up a text advertising – I always choose 30 days – 1500 points

>> When I set up a social post*) – I also choose 30 days – 2500 points

>> Oh, I forgot to mention Login Ads! – 1000 points per 24 hours.

*) How they make these social posts – I have no idea! – For me it's pure magic!
I even don't have to have any accounts with social media!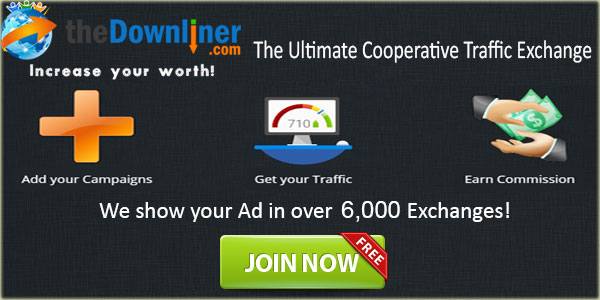 There's one thing very important for you to know if you use Downliner for the very first time:
After you upgrade you receive
a certain amount of points (depending on your upgrade level).
If you exchange all your points for Cooperative views – you will have no points left for your text, banner, login ad or social posts.
IMPORTANT – Be careful where you promote your Cooperative Link.
Downliner has a list of banned sites. You will find this list here: Support > Last question.
If you promote your Cooperative Link on one of the banned sites
– instead of earning points – you will be losing them!
Exclusive TDL Referral Machine – 6 Paid Signups Guaranteed.
6 Paid signups? What Program they are talking about?  AIOP.
Does it work? Well, to some degree yes. I waited 4.5 months for my 1st referral..!!
I love AIOP – I no longer use their autoresponder
as TrafficWave offers a better product.
And: the combination of TW autoresponder, TW pay plan and 1K Team
definitely is a better cure for my finances.
But I use AIOP on a daily basis – for me AIOP is the best place when I can create and have hosted an unlimited number of pages. Capture pages, splash pages, info pages that I don't want to add to my blog or my mini-site about TW and 1K Team (I give access to this mini site to every Paid member of my TW downline).